Intramural Sports (IMs)
Announcement
On July 1, 2017, Calhoun College was renamed Grace Hopper College. If you wish to view the Grace Hopper Website, please click here.
Katherine Bradley
Kate Bradley is an Economics major in the Class of 2017. In high school, she played field hockey, squash, and lacrosse, and she loves continuing to play sports and meeting new people through Calhoun's Intramural Program. Other than being one of the IM coordinators for Calhoun, she is a mentor for middle school students through the Jones Zimmerman mentoring program, a Calhoun College aide, and a member or Camp Kesem Yale.
David Hergenroeder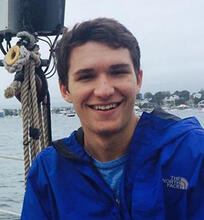 David Hergenroeder is a Computer Science major in the Class of 2017. He's originally from Madison, Alabama. He has been involved in Calhoun Intramurals since his freshman year. When he's not playing IM sports for Calhoun, David works as a Cluster Tech for the Student Technology Collaborative.